Prof. Santosh Mehrotra
Economist
India
Speech Title: "The TWIN Asian Challenges of Technological upgradation and IR4"
---
Prof. Santosh Mehrotra was the Director-General, National Institute of Labour Economics Research (earlier called Institute of Applied Manpower Research) Planning Commission (in the rank of Secretary, Government of India) (2009-2014). He is a human development economist, whose research and writings have had most influence in the areas of labour/ employment, skill development, child poverty, and the economics of education. He brings a combination of professional experience: with the Indian government as a policy maker and adviser, with international organisations as a technical expert, having lived on three continents and travelled to 63 countries providing technical advice to governments; and as an academic whose research work has been translated into Chinese, French, Spanish, Portuguese, Italian and German.
From 1991 to 2006, he spent 15 years with two UN agencies – UNICEF and UNDP (Chief Economist of UNDP's global Human Development Report (2002-05), New York; led the research programme on developing countries at UNICEF's global research institute, the Innocenti Research Centre, Florence, Italy (1999-2002).
Prof. Mehrotra has an MA in Economics from the New School for Social Research, New School University, New York (1981), and Phd in Economics in Cambridge (1985). Prof. Mehrotra is currently Professor of Economics and Chairperson, Centre for Informal Sector and Labour Studies, Jawaharlal Nehru University.
He returned to India in September 2006 to head the Rural Development Division, and then head, Development Policy Division, Planning Commission (till August 2009). An author of several chapters in India's 11th Five Year Plan (2007-2012), and the 12th Five Year Plan. Team leader, second national Human Development Report (Oxford, 2011). He held a three-year appointment as Parkin Visiting Professor at the Centre for International Development in the Faculty of Social Sciences, Bath University, UK (2010-13).
Professor Aminur Rahman
Professor and Head of Department of Economics
School of Business
Independent University
Bangladesh
Speech Title: "Advancing Economies towards the Fourth Industrial Revolution"
---
Professor Aminur Rahman is a Professor of Economics and Head of the Department of Economics, School of Business at Independent University, Bangladesh. He has more than thirty years of teaching, research and consultancy experience. He has attended Uppsala and Stockholm Universities, Sweden for graduate and undergraduate studies respectively. Before joining IUB Professor Rahman taught at Stockholm University, Sweden and worked at the British Multinational Company Imperial Chemical Industries (ICI). His taught courses include: Environmental Economics, Natural Resource Economics, Transport Economics, EIA study, Macroeconomics, International Trade Theory, International Finance, Micro economic theory, Development economics, Managerial Economics (MBA) and Business Economics (EMBA). He has authored over 40 articles, book chapters, reports and conference papers on environmental economics, international finance and development economics. He has presented papers in international conferences held in the UK, Russian Federation, Sri Lanka, Nepal, Pakistan, Australia, Bangladesh, China, India, Japan, Korea, Argentina, Mexico, Tanzania, Taiwan, Indonesia, Germany, Sweden and Malaysia. Professor Rahman is the APNEC general Board member and Life members of the following organizations: BEA, DUEDAA, BAPA, Uppsala and Stockholm university alumni associations. He has co-authored a book with Jot Hecht" Environmental Economics in Bangladesh". IUCN, USA 2001. He was also involved in various consultancy projects funded by Ministry of Environment and Forest, Bangladesh, IHDP (Germany), UNDP, IUCN, ADB, International Finance Corporation (IFC), Ministry of Planning etc.
His current research centers on wetland valuation, climate change, commons, Exchange rate policy and other natural resources issues. Professor Rahman was awarded Bertil Ohlin Fund by the Royal Swedish Academy of Sciences for his research in international finance.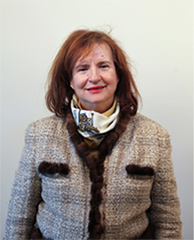 Dr. Chrysanthi Balomenou
Banking and Finance department
Faculty of Economic and Administrative Sciences
Epoka University
Albania
Speech Title: "How aging population, immigration, and technological transition pose challenges to the Greek secondary banking"
Dr. Chrysanthi Balomenou is a full-time professor of Banking and Finance department, Faculty of Economic and Administrative Sciences, Epoka University (Tirana, Albania, 2017-Present). She has been a professor advisor lecturer at post-graduate program in Banking Science, as far as at an undergraduate program of MBA, Faculty of Social Science, at Hellenic Open University (Greece, 2001-2017). Moreover, Dr. Balomenou has collaborated with Budapest University of Technology and Economics (BME), (Budapest, Hungary 2005-2017), under the umbrella of Erasmus and Erasmus-plus program, and also as an invited lecturer. She has a Msc. In Regional Development from Institute of Regional Development, at Pantheon University in Athens, (1985), and a PhD in Banking and Regional Economics from the Department of Economics and regional Development, Pantheon University, Athens (2000).
Regarding her professional profile, Dr. Balomenou has worked for 32 years as a permanent staff at National Bank of Greece, and during the last 10 years she was working at the division of the Strategic Marketing as an executive specialized staff (Marketing Analyst Manager), as well as a Trainer at the Human Resources Training Division, (1981-2014). As such, Dr. Chrysanthi Balomenou brings a combination of both academic and professional experience.
Dr. Balomenou has published many scientific articles in the field of Regional economics, Monetary economics and Banking. Moreover, she is the author of one book referring to the procedures of evaluation, appraisals and approval of investment projects by the banking system. Furthermore, during the time that she was working at the National Bank of Greece she has elaborated a lot of Banking marketing surveys and coordinated several relevant projects. Dr. Balomenou has also participated in various national and international congresses, conferences and workshops, by being a Chair, Reviewer and Presenter. Finally, Dr. Balomenou is a member, and board member of many Greek and International, scientific and professional associations.